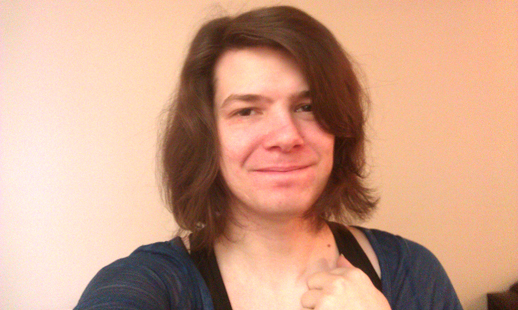 "I'm a weird lady making weird games in Wisconsin; creator of @suteF, working on The #Bulletromancer."
You could say this is the profile that I've always wanted; I've made at least one game that an insane amount of people have greatly enjoyed, I'm still working on my dream projects, and I am ... oh yeah.
I'm born male, but I've always felt I've truly been female. Beneath years of denial, fear, and incredible self-loathing, I've come to terms with the fact that I have to be who I need to be.
After starting my transition in 2013, I've not only started becoming myself, but I've also been doing the best work of I've ever done as a game developer. I'm happy to wake up every day and see my coworkers who continue to respect me both as a person and a colleague. I go home at night and work on Bulletromancer, my friends and family still supporting me when I'm feeling vulnerable or ecstatic.
As someone who usually expects the worst things to happen, I was incredibly scared to even suggest that I am Transgender. I never thought people could be so supportive, kind, and understanding. Even if people don't quite understand the reasoning or even what I mean, I usually tell them this: "I'll look a little different, but I'm still going to be the same person you know, if not just a lot happier."
Your mileage may vary; if you feel this way, you may not be as fortunate as I have been and it may seem to be the most daunting thing in the world to overcome. At risk of sounding cliché (or maybe even just plain naïve), no matter how much you can or cannot contribute to your transition or even just growing personally, if you can accept yourself and be who you really are, everyone around you might not be able to help but feel the same.
Thank you to everyone for all of the kind words; the future is looking really bright, and I can't wait to continue making new, interesting games!
P.S: I go by Terra and my pronouns are she/her.